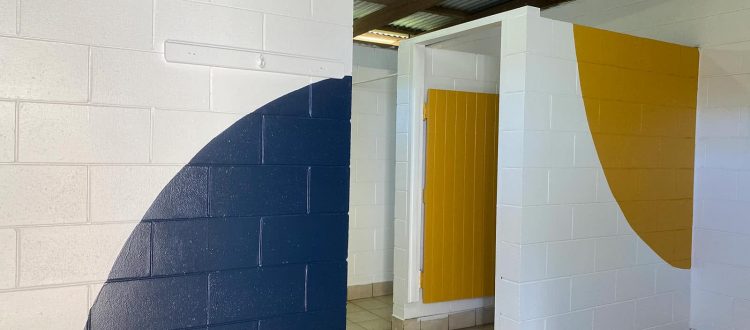 Well, things have been rather quiet at the Proserpine Showgrounds in 2020, as no doubt it has been in your world as well. As we all know, thanks to our current world of COVID there was no Show – only the third time in over 109 years…… However that said time has not been wasted – there have been some things happening at the Showgrounds.
The start of construction for the new Pavilion, scheduled for mid-December 2020 has meant our Dining Hall has become part of the construction site. This in turn has limited our available venues for hire for the foreseeable future. So, with that in mind and the Bar facilities being our only real venue available for hire, the need to revamp the bathrooms facilities was identified.
With the COVID restrictions in place this project meant we had to keep workers to a minimum. So, a small handful of trusty volunteers set about cleaning and painting – such a "joyous" job………
However, the end results speak for themselves, it was so worth the 3 weekends it took to complete.
With a fresh coat of paint, an inspired colour scheme and a little reno – the addition of some new doors, new toilet fixtures, mirrors and benchtops means that Operation Bar Bathroom Revamp is now complete.
We hope you like the Revamp, it has certainly breathed new life into what was a neglected area.
Cheers for now…….