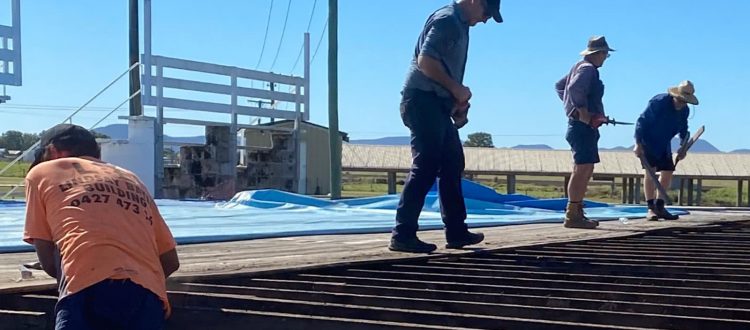 Latest update on the Showgrounds goings-on…………… Thanks to a great team of volunteers over 2 days, we have successfully salvaged the beautiful floor from the old Pavilion. The floor has been kept under cover and successfully protect from the weather since Cyclone Debbie – many thanks to Wilmar and their provision and installation of a large tarp. It did its job well.
It was not a simple task, it was very tiring and a little painstaking at times, but we got there in the end. Again our gratitude to our small group of volunteers who gave their time and sweat to save this beautiful timber.
Because of the way the small boards were nailed – over 70 years ago and with great skill – the team had to move rather slowly lifting the boards so as not to smash the tongue and groove aspect of the board. The removal of the floorboards also exposed what we long suspected – fabulous long bearers and joists underneath. They too have been salvaged and being stored for their next life – a special project inside the new pavilion.
The existing floorboards have been stored inside the dining hall awaiting our next project – removing the nails from the boards. Once this is done the floorboards will also have a new life inside the new Pavilion.
It has been very satisfying to be able to save this piece of Show history and be able to repurpose it in the new building as an ode to the memories of both our community and the Show members that built it. Many thanks to those who have encouraged us to undertake the salvage and to those that gave their time to help save it.
The 70-year-old floor has been the scene of many social occasions in our community's history when the pavilion was the social hub of the region – weekly dances, private social events like weddings and engagements and numerous community events.
While it is still a pile of rubble or as one detractor has said – good firewood, we cannot wait to share its new life with you …………
Cheers for now!